I'm honored to be chairing the board of directors for the Citizens League this year and am excited about our upcoming annual Civic Celebration, "Generations of Inspiration." I extend an invitation to each and every one of you to join me at the upcoming event on October 29! See below for more details and
register online
today!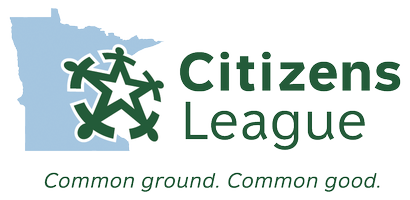 The 2014 Citizens League Civic Celebration
and Annual Meeting
and annual celebration of the
John Brandl "Common Quest for the Common Ground" series
Governor Al Quie
(Minnesota Governor 1978-1982 and GOP Member of Congress 1958-1979)
and
Congressman Don Fraser
(DFL Member of Congress 1963-1979 and Minneapolis Mayor 1980-1994)
Governor Quie and Congressman Fraser
are leaders who played transformational roles in their time. How was their influence felt by those who followed and what can we learn from their leadership? Those who were mentored and inspired by these men will tell us how their legacies last even today and how they are working to inspire this same contagious civic leadership with future generations serving Minnesota. These two uncommon men share a common passion for Minnesota, the nation, and a better world.
Our speakers include
Sondra Samuels
, President and CEO of the
Northside Achievement Zone
;
Sharon Sayles Belton
, Vice President of Community Relations and Government Affairs at
Thomson Reuters
and former Mayor of Minneapolis 1994-2001;
Eric Magnuson
, partner at
Robins, Kaplan, Miller & Ciresi
and former Chief Justice of the Minnesota Supreme Court 2008-2010; and
Lois West Duffy
, former press secretary to U.S. Senator David Durenberger and former public relations director,
Prison Fellowship USA
.
5:00 pm
– VIP sponsor reception with Governor Quie and Congressman Fraser
5:30 pm
– General reception (complimentary appetizers/cash bar)
6:30 pm
– Program honoring Governor Quie and Congressman Fraser, through the eyes of those inspired by their leadership