It's back to school time and time to get back into the lab! The
September Social Innovation Lab
, informed by the first event last May, will focus on applying tools for developing effective networks to advance innovative projects. Like the first lab, this month's space will serve as a place for community change makers to get new thinking, tools, and connections to move your work forward. #notextbooksneeded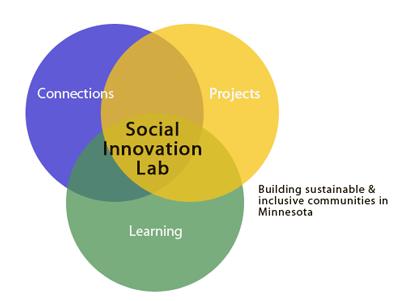 The Social Innovation Lab is a place for community change makers to get new thinking, tools and connections to advance their work. The lab has three goals:
1.
Learn new tools and ways of seeing things
that can help advance social innovation.
2.
Advance innovative projects that are working to enable sustainable and inclusive communities in Minnesota
by applying new learning to featured projects, as well as to your own work.
3.
Connect with other change makers
, from many fields and perspectives, to share insights and build collaborative relationships.
We invite you to join us on the morning of September 12, for the second Social Innovation Lab.
All perspectives are needed--from businesses, neighborhoods, the arts, families, spiritual communities, nonprofits, tech, entrepreneurs, policy, and more. We are seeking a combination of long-time social innovators and those who are curious and new to the idea.
The September 12th Social Innovation Lab will focus on how networks drive and affect innovative projects.
How do we recognize and act with awareness of how our networks and the way we relate to those networks influence the success of our efforts?
How can we be together and work together in the service of more inclusive and sustainable communities?
Participants at the lab will be able to choose from about 30 social innovation projects they want to work with at the event. In small groups, we'll apply ideas for developing networks to the work of those projects. These project groups will work on very wide range of issues, including:
Violence prevention in North Minneapolis

Improving foster care systems

Gardening on corporate campuses

Support for caregivers

Renewable energy development

Healing historic traumas

Building wealth in low-income communities

And many more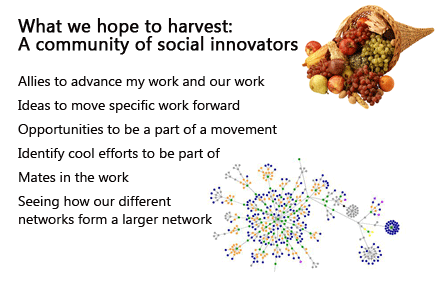 This lab will be held in Kagin Commons on the Macalester College campus. Free parking will be available in Macalester lots and on the street. Registration will begin at 8:00 am and we'll gather at 8:30 am. and meet until noon.
Tickets can be refunded up until August 15.
A limited number of volunteer scholarships are available. Contact Michael Bischoff at michael@clarityfacilitation.com to inquire about volunteer opportunities.