The Minnesota Rising 2012 Un/Conference: Leveraging Expansive Leadership for Our Minnesota will be held on Saturday, September 22, 2012 from 10:00AM – 4:30PM at DLR Group offices in Minneapolis, MN. Hosted by and for emerging leaders, the Un/Conference will engage emerging leaders across Minnesota in an energizing day of innovative learning and dialogue, skill-building, and network-building with their peers!
Minnesota Rising is pleased to collaborate with Network Partners, emerging leader group organizations, to help cross-promote our parallel efforts to provide leadership development and community-building. In our Network Partner Notes, we prompt and highlight our 2012 Un/Conference Network Partners in their own words!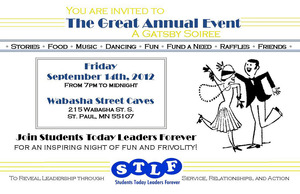 It's time to get a wiggle on and sign up for

STLF

's Great

Annual

Event

: A Gatsby Soiree! Slip into your glad rags and put on the ritz at the
Wabasha Street Caves September 14 in St. Paul!
Come enjoy some giggle water and grub while celebrating some of

STLF

's most inspiring leaders. It's an evening of great friends, good food, entertainment and energy in support of

STLF

's mission to reveal leadership through service, relationships, and action.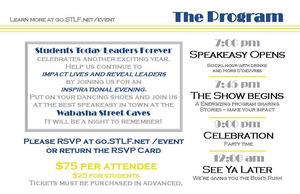 Event

Highlights:
* Inspiring Stories
* Gangster Cave Tours
* Food and Drinks
* Silent and Live Auction
* Chance to speak in 20s slang
* Amazing people
* Reception
* Cutting a rug

Tickets are $75 with a reduced rate of $25 for students, teachers, and folks doing a year (or more) of service. Proceeds go directly to

STLF

's financial aid fund. Register on Friday, September 7 for a special price of $50! Head to go.

stlf

.net/

event

to sign up!

Whether you're on the lam or a Mrs. Grundy, we hope to see you at

STLF

's Great

Annual

Event

: A Gatsby Soiree!